Happy National Sewing Month!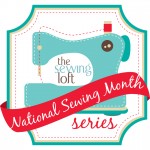 I'm tickled to be a part of the National Sewing Month festivities over on
The Sewing Loft
. Heather has put together a month long celebration of our favorite-must-have craft tools, and simple tutorials to use them! Drop by & get crafty! I summed up my love for the rotary cutter in ode form and shared this
upcycled tshirt gift wrapping tutorial
just in time for you adorn your packages this holiday season!
Super fun & easy way to rock out your holiday packaging- and the best part is it's reusable! I like to include pin backs to my finished bow topper that make great brooches or add a little something something to your head band (or bracelet!) Here's an idea of how I reuse mine: