Top 30 Places To Buy Knit Fabric In The US
Working with sergers and teaching workshops on the road, I'm often asked where are the best places to find knits. I'll always urging you to check with your local shops but the truth is, not many quilt shops sell beautiful knits. If they do: I often find their offerings limited. Here are 30 stores (a mix of Brick and Morter shops, online retailers, and some that are both!) that offer up organic knits, jersey knit, ponte knits, interlock knits, and double knit fabrics for sale.
1.
Alabama Chanin
462 Lane Dr, Florence, AL 100% Organic medium weight jersey knit
2.
Britex Fabrics
146 Geary St. San Francisco CA Stylish and sophisticated knit blends, imported styles, and even double faced reversible cotton knits
3.
Cali Fabrics
Eclectic mix of prints and solids with a variety of weights and blends. Something for everyone including patterned knits that would be great for men.
4.
Cedar House Fabrics
Specializes in eco-friendly fabrics, many designer knit options
5.
Fabric.com
over 4,000 knit offerings including scuba knit, stretch knits, and double knits something for everyone
Denim Navy Quilted Knit // Marcy Tilton Fabrics
6.
Fabric Mart
3911 Penn Ave, Sinking Spring, PA NY and Italian Designer fabrics and patterns are available
7.
Fabric World
256 W 38th St, New York, NY Apparel fabrics, metallic spandex. stretch sequins, stretch lace and more.
8.
Fabric Worm
Well
-
rounded collection of designer knit offerings online.
9.
Fashion Fabrics Club
boasts over 20,000 fabrics in their online store! Jersey knit offerings include apparel fabric, cotton knit fabric, printed knit fabric,double knit fabric, stretch knit fabric, ponte de roma knit, rayon knit, wool knit, silk knit, linen knit, jersey knit, sweater knit
10.
Girl Charlee
Go to resource for trendy jersey knit fabrics including florals, chevron, and stripes
11.
Harts Fabric
1620 Seabright Ave, Santa Cruz, CA Soft comfortable knits, designer knits: excellent selection of quality apparel fabric
12.
Hawthorne Threads
54 Elizabeth St, Red Hook, NY Novelty prints but majority of offerings are solid colored
13.
HoneyBGood
Eco-friendly jersey and interlock knits selection
14.
imagine gnats
fresh collection of curated offerings many quality solids with sweater knits, athletic mixed in
15.
Marcy Tilton Fabrics
Hand selected knits- sophisticated high quality designer apparel fabrics
16.
Michael Levine
920 Maple Ave, Los Angeles, CA Great variety of apparel fabrics not limited to burn out knits, textured knits, sweater knits, sequined knits, and so much more.
Alabama Chanin Color Card
17.
Mood Fabrics
225 W 37th St, New York, NY Every type of knit fabric you could imagine + designer fabrics as well
18.
Nature's Fabric
Bamboo, wool, hemp, organic cotton, cotton knits, and a selection of Euro Knits too
19.
Nick of Time Textiles
1701 Union Blvd Allentown, PA Huge selection of knitted fabrics as low as $.50/yard on clearance
20.
Organic Cotton Plus
Grown and manufactured in the USA, many undyed options.
21.
Print Knit Studio
Unique high quality knits for children clothing designers. Made in USA.
22.
Sew Baby
Knit prints, solids, and ribbings mostly kiddy themed and coordinating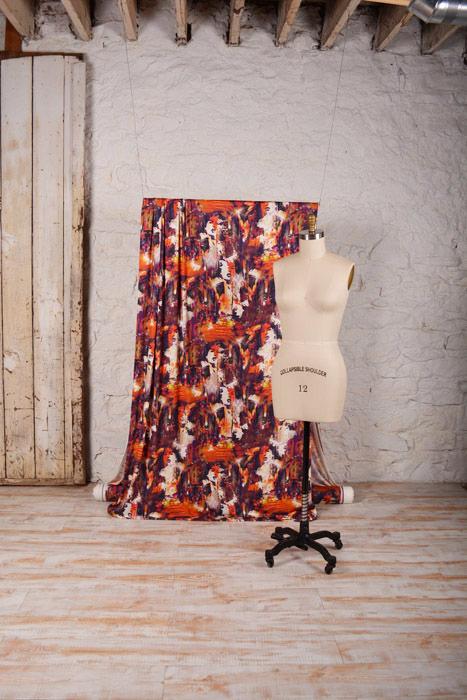 Face Collage Viscose Knit // The Sewing Workshop
23.
Sewing Workshop
301 S Kansas Ave A, Topeka, KS curated fabrics by Linda Lee. Unique and modern prints, solids, stripes, and novelty knits available.
24.
Spoonflower
custom printed fabrics you design or choose from 1,000's of indie designers. Performance, cotton knit, and organic interlock options are available.
25.
The Fabric Fairy
wide variety of fabrics available including juvenile prints. lycra, swim fabrics, organic, bamboo, and other knit blends
26.
The Fabric Store USA
136 S La Brea Ave, Los Angeles, CA (Online Sale Going on Now 20% Off!) Lightweight knits available
27.
Thread International
Recycled jersey knit fabrics made from soda bottles limited color availability
28.
Vogue Fabric Store
718 - 732 Main Street, Evanston, IL Over 230 knit fabrics available.
29. Crimson Tate
845 Massachusetts Ave, Indianapolis, IN Great variety of modern knits
30. Mercer's Fabric
121 Charles St #2, Boston, MA Dress making fabrics from around the world
Bonus: I'm including some of my favorite shops outside of the US just to round it out.
31.
Kitchy-Coo
Funky, fun, and bright knits, interlock, and ribbing available (Ships around the world)
32.
Ray Stitch
Lots of great prints, stripes, and confetti-flecked knits
As we round out the first week of the
Love Your Serger blog series
, I'm enjoying seeing you dig out your machines and share serger project photos on
Instagram
. This is a great starter list of knit suppliers but if you have favorite online or local shop please leave a comment below- I'd love to check them out and I know others would too!