What's Moo? A Business Card Review
I've heard a lot about
MOO Cards
, and have been wanting to try them out for myself. The fact that I ordered my first set of business cards on a promotion through
OvernightPrints.com
and paid $7 for 250 double sided shipped kept me from splurging on the MOO cards that generally run $19.99 before shipping for only 100!
I finally got around to order from
Moo
a few months ago now, they were offering a 25% discount and I love sales. Naturally- I couldn't resist.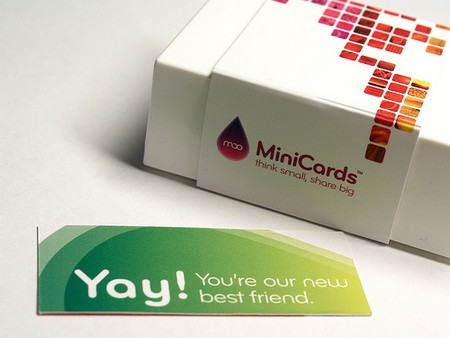 Heres what I love about MOO Cards:
-Easy Upload. (If you choose to use your own images you just upload, they resize them for you)
... did I mention you can use 50-100 different images?!?!
-Easy Walk Through Design
-DOUBLE Sided!
-Option to use RECYCLED PAPER!
-Lightning McQueen Fast Shipping (Order placed 3/25 at my door 4/4)
- Once you place your order you have a grace period of time where you can make adjustments to your cards before they're sent off to print (3 hours I believe, I took advantage of it too... I'm so indecisive sometimes!)
-Customer Service!! I had a small issue with my prints and they responded to my inquiry within 24 hours and sent out a whole new order for FREE!!
-Tons and tons of awesome premade designs to use for your cards too
A Moo Design
Theres not much I didn't like about my experience w/ MOO cards. I picked up some of the
Mini Moo Cards
which are half the standard size card, they're great quality and certainly eye catching but I think if I order (when I order) from them again I will keep with the standard size (recycled paper). Mini Moos are cool, but I feel a little uncool when I'm fumbling around trying to get one out of my wallet... and then I have to explain [ this
is
my business card]
Mini Moos
http://www.moo.com/share/r29586
would be a perfect way to help brand your business using them has hang tags with care instructions for your wool like Julie from
Libelle
or you maybe you can find other ideas here, in the
Inspiration Gallery
.
What do I love most about my Moo cards? I can share a variety of items in the palm of my hand- being able to actually SHOW people what
TrashN2Tees
is all about.
In conclusion:
I love Moo.
Yes, the price is a little steep but they produce a quality and personalized branding experience for your business. Moo is helping to make marketing fun! Don't take my word on it-
You can try Moo for Free
! They'll ship you a sampler pack using your own images so you can see for yourself!
Update: Be sure to check out my follow up article to this one: Whats Moo? You don't need business cards.